By Jim Krause
6/9/20
[Author's note: The Covid-19 pandemic has been especially cruel to South America. In Ecuador, large cities such as Guayaquil and Quito were hit hard. When I visited last year, the virus had not yet found its way to the country, up into the Andes, and into the deep reaches of the Amazon. It was a happier time.]
At 16,000 feet, we were short of breath, taking small steps as we inched our way up the mountainside. Two students had succumbed to altitude sickness and were safely resting in the lodge somewhere below. The rest of us continued our slow progress, up the side of Mount Chimborazo.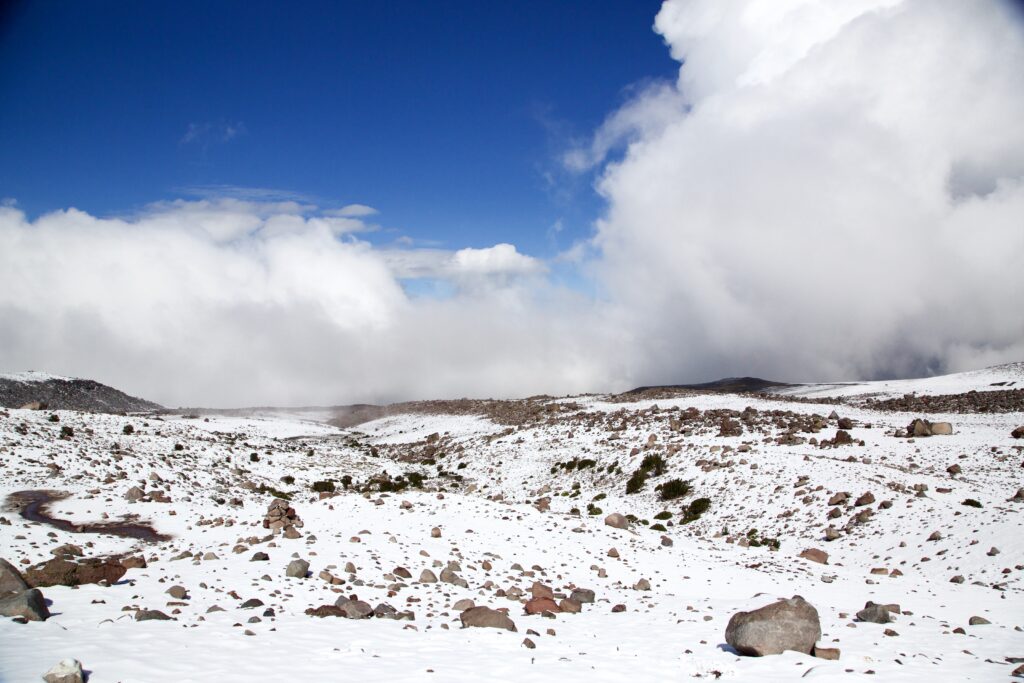 Ecuador is a land of extreme topography and climate. From the snow-covered peaks of the Andes to the volcanic islands of the Galapagos, Ecuador is home to a diverse range of habitats and species found nowhere else on our planet. While I'd read some Darwin, watched documentaries on the Galapagos Islands, and daydreamed about hiking the Andes, the idea of traveling to Ecuador was so remote, it wasn't even on my bucket list. But last May, I had the good fortune to lead a field experience course and take 10 Media School students to Ecuador. We traveled to Quito, trekked through the Andes, climbed up volcanoes, and explored the Galapagos Islands. What follows is a brief snapshot of our adventures.
Before leaving we took two weeks preparing and learning about where we were going. Students would be writing stories, creating mini-documentaries, and posting blogs. I wanted to make sure that we would be more than tourists and prepared not just for the altitude and climate, but oriented to its geography, culture, and biology.
Located in the northwestern portion of South America, Ecuador sits on its namesake, the equator. Due to its equatorial location, the country doesn't experience four seasons like we do in the northern hemisphere. There is always close to 12 hours of daylight and 12 hours of night. While some might think that the location on the equator would bring about warmer climates, the weather and temperature vary greatly throughout the different regions of Ecuador, mainly dependent on the elevation. This is why in the Andes, there are glaciers at the equator.
Ecuador has four different geographic regions, each with its own unique climate, topography, flora, fauna, and culture. The Andes, locally known as the Highlands contains a series of snowcapped peaks and Ecuador's highest mountain, Mount Chimborazo. To the east is the Amazon, which contains a huge expanse of ever dwindling rainforest. West of the Andes is the Coast, rich in farming and fisheries- and far out to the west in the Pacific Ocean, are the Galapagos Islands. It was this volcanic archipelago that caught the eye of naturalist Charles Darwin and became instrumental in his theory of evolution.
We were on our way to travel through two of the four regions: the Andes and the Galapagos. After lectures from geologists and biologists, snorkel training, practice productions, and a final gear check- we were as ready as we could be.
From Indianapolis, we flew to Quito, the capital of Ecuador. It was the first time any of us had been there. At 9,350 feet, it's one of the highest national capitals in the world. We were eager to explore the landscape, but at such a high elevation, we had to go slow and take a few days to acclimate to the altitude. This was the perfect opportunity to take in the city of Quito.
Quito
Quito is a huge sprawling city with many different ethnic groups and the hub of the country's government. We traveled to Independence Square, right next to the Presidential Palace (Carondelet Palace). This historic area is a UNESCO World Heritage site, dating back to the 1500s, built on the ruins of an ancient Inca City. Independence Square is surrounded by beautiful white buildings built in the Spanish-colonial style of architecture. It was bustling with locals, tourists, and vendors. There were people selling food, trinkets, art, salvation, and a few grifters and pickpockets. We'd been warned about street thieves and took care to keep our cell phones and wallets tucked safely away.
We visited museums and tried to comprehend the breadth of ancient artifacts and modern art, which drew upon indigenous, Inca, Spanish and European influences.
Quito's parks were impressive. Some had large public art pieces and stunning vistas. Others provided a place for sports and had soccer fields, running tracks, pools, playgrounds, and skateboard and trick biking areas. They looked a lot like our own parks- but with incredible views, a benefit from being perched high up in the Andes.
We visited La Marsical, a covered outdoor street market, where vendors sold hand crafted goods- mainly to tourists. Narrow aisles were lined with floor-to-ceiling displays of alpaca sweaters and gloves, jewelry, purses, coffee, chocolate, and coco leaves. We interviewed some of the vendors. All were immigrants from nearby countries- hired help from out of town. They'd come to Quito in search of a better life- a familiar refrain. They were manning booths whose owners were somewhere else with more important matters to attend to.
My favorite stop in Quito was a huge indoor food market (Mercado Iñaquito), which catered to locals. The amount of fresh produce was mind boggling- larger than anything I've ever seen. There were acres of produce stands with familiar fruits and vegetables but many which were new to me, such as pitahaya, tree tomato, and mora. There were restaurants and shops with freshly butchered pigs, cows, and chickens. There was even a chapel- as Ecuador is on the whole, a pious culture. If I lived in Quito, I'd do my shopping here. The people were warm and didn't mind our cameras and questions. While I waited outside the market for my students to finish shooting interviews, an older lady sat down beside me. We couldn't speak each other's language but conversed through gestures and expressions, instantly becoming friends. When her husband arrived, we both helped her up and she gave me a heartfelt hug. I was moved by this intimate connection created with someone I'd just met.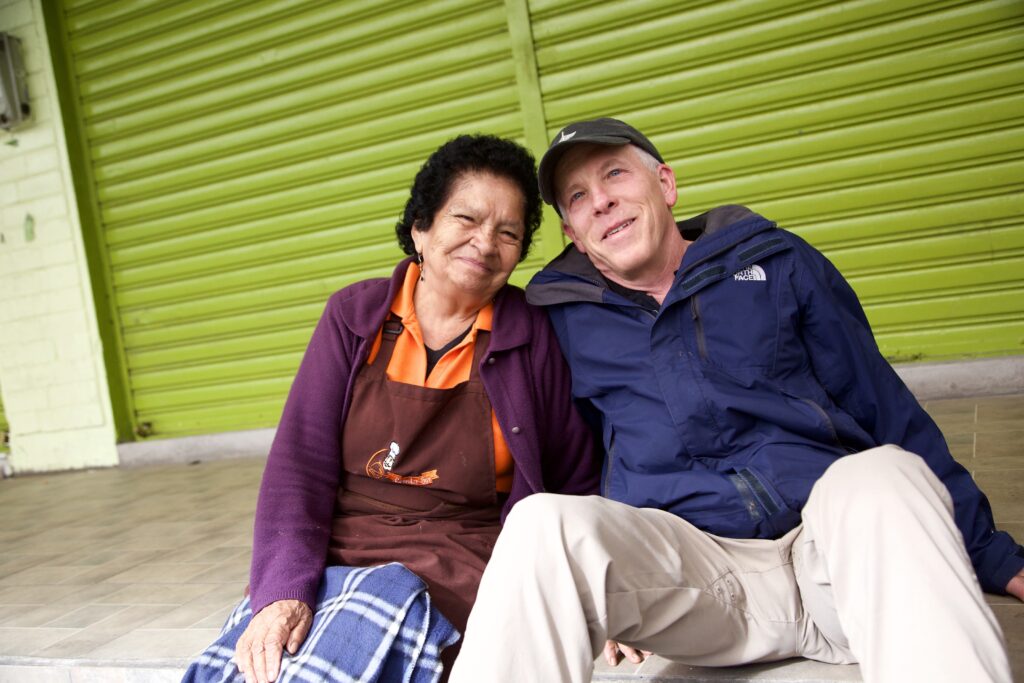 Quito looks a lot like our large cities. There's construction, many people, and lots of traffic. Unlike the US and many European cities, pedestrians must be cautious at intersections as cars won't normally yield to people in crosswalks. We didn't see many homeless people but did see lots of stray dogs. The street dogs of Ecuador became a common sight throughout our travels.
In one area of town I couldn't help but note that there were no garbage cans. I asked our guide about this and learned that Quito and many parts of Ecuador were struggling with basic infrastructure issues. Some areas have no trash pickup- leaving residents to fend for themselves. Our guide said that her neighborhood formed their own trash and recycling co-ops and also started a community garden.
We loved our time in Quito, but it was time to move farther up into the Andes. We boarded a bus and headed up into the Highlands, home of the mighty Chimborazo and Cotopaxi volcanoes.
The Andes
The Andes are the longest mountain range in the world, stretching the entire length of the continent, from the tip of Argentina 4500 miles up to Venezuela where they disappear into the Caribbean. The Andean region of Ecuador, known as the Highlands, is where we were to spend the next five days.
Formation of the Andes began ten to six million years ago through tectonic activity- and they are still growing. Earthquakes and volcanic eruptions are commonplace. On our drive up into the highlands we drove by volcano evacuation road signs and saw Pichincha, an active stratovolcano spewing gray smoke off in the distance. (Stratovolcanoes are cone-shaped, built up over layers of hardened lava, pumice, and ash.)
South America sits on the aptly named South American plate. Just west under the Pacific is the Nazca Plate, which is being pushed underneath the South American Plate in a process called subduction. The solid uppermost mantle and oceanic crust of the Nazca Plate are being driven towards the South American plate at speeds of 3 to 5 centimeters per year. This is quick in terms of geology. As the Nazca plate is driven underneath the South American plate, its crust is forced upwards, resulting in the formation of the Andes Mountains.
We were on our way to visit two of Ecuador's iconic and snow-capped volcanoes: Mount Chimborazo and Mount Cotopaxi. As we drove higher along the winding road, we saw farm after farm and realized that the Andes are more than mountains and volcanoes. Tucked below the glaciated peaks are verdant foothills dotted with farms, small communities, and villages. We arrived at a small remote Achignan village, where we met our local guide, Maria de Chimborazo.
Maria had piercing eyes, long dark hair, and seemed to carry a mystical air about her. She sang a song of the mountains to us as we drove high up onto the paramo, a treeless plateau over an expanse of volcanic soil. Our destination was a Polylepis Forest- a type of high-altitude forest found only in the Andes at elevations around 13,000 feet. Maria led us through fog and rain- into what looked like a fairytale forest. There were red, twisted trees growing at odd angles- a result of the harsh conditions and high altitude.
We were tired but exhilarated and marveled at the barren and rugged landscape. But the day was getting long and two of our travelers were nauseous and dizzy from the high elevation. We retreated back to a small lodge in the village and built a fire to ward off the cold. It was the first time for most of my students to be out of the country or in such a remote and isolated location. It was vastly different from the hustle and bustle of Quito the day before, and far removed from their dorms and apartments back home.
After a rest we hiked down to the village center where the residents had prepared dinner for us. They seemed genuinely pleased to host us and have reason to celebrate. After dinner, they treated us to traditional songs and later invited us to dance with them. We were touched by the villagers' warmth and generosity.
Chimborazo
Chimborazo is a stratovolcano, and the highest mountain in Ecuador and a national park. Its snow-covered peak is 20,548 feet above sea level – and we were getting a chance to see it up close.
Our bus bounced along a washboard road over the alpine tundra. We passed wild packs of vicunas (wild cousins of llamas) and took in a landscape like something from another planet. As we ascended, the barren terrain became covered with snow and glacial debris.
We arrived at the Carrel Refuge, which is around 15,800 feet above sea level. Our plan was to hike from there up to the Edward Whymper Refuge. But the altitude sickness of two of our travelers was getting worse. We arranged a taxi to take them back down to Quito- but the driver wouldn't arrive for hours. In the meantime, the rest were eager to hike up the mountain, capture video, and take photos. After making sure our companions were cared for, we started out. Right after leaving the refuge, we paused at the Simon Bolivar Monument, a sobering memorial to climbers who had perished on the mountain. We had to take it slow going up the mountain, as the climb is steep, and the air is thin. We topped out at the Edward Whymper Refuge, at about 16,400 feet. It was the highest elevation any of us had ever climbed. The experience was exhilarating, and the view was amazing.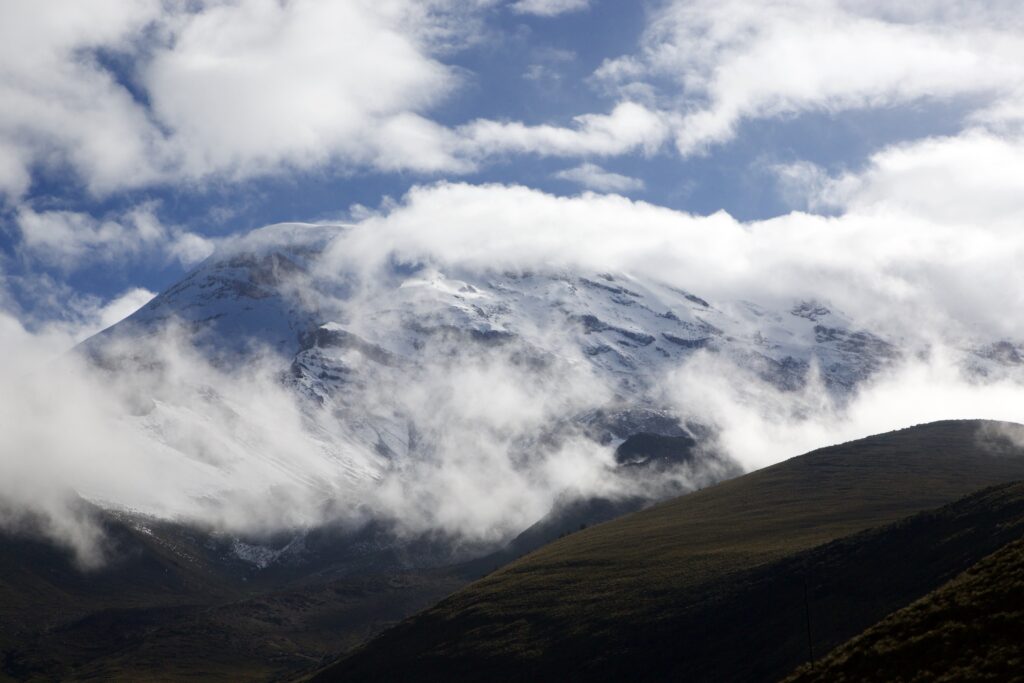 Like many high Andean peaks, Mount Chimborazo is covered with glaciers year-round. Millions of people from the Andes all the way to the coast, rely on glacial meltwater as their primary source of water. In recent years, temperatures have risen. A 2018 report by Unesco and the Grid Arendal Foundation projects that South America will experience significant losses in glacial volume by the end of the century. Studies predict that the volume of tropical glaciers such as those in Ecuador, will decrease most dramatically- between 78 to 97 percent.
As we hiked back down the mountain, numerous rivulets had formed, which had just earlier been covered with snow. Were we witnessing climate change in action or just the effects of the afternoon sun? I pondered this as we hiked back down the mountainside.
Cotopaxi
We traveled by bus to Cotopaxi, another iconic Ecuadorian volcano. It's an active stratovolcano, Ecuador's second highest mountain and the heart of Cotopaxi National Park. Its last eruption was in 2015. On the way, we stopped to examine the remains of a lahar, where the last eruption caused a mixture of mud, water, and rock to flow down the riverbed. Lahars can be quite violent and deadlier than lava flows.
Cotopaxi is surrounded by an expansive grass-covered plateau with herds of wild horses, wildflowers, and beautiful views of the mountain. Looking across the plateau, I took in the mountain, which rises majestically from the tundra and tapers to a striking, snowcapped peak. Cotopaxi embodies the magnificence of the Andes and in some ways the essence of Ecuador. Cotopaxi has been covered with snow for thousands of years and is prominently featured in posters, magazine and on stamps. I felt lucky to see it in its full glory. If scientists' projections are true, in the near future the snow will have all melted.
Maquipucuna, a Treehouse in the Cloud Forest
Ecuador is home to a vast expanse of rain forests- but our next stop was Maquipucuna, a cloud forest reserve. Cloud forests are high-elevation rain forests.
We'd stopped back in Quito to regroup and collect our two travelers who'd experienced altitude sickness and were now traveling through lush mountains. Our bus wound through a mix of deforested hills, now farmland and thick jungle. Patches of clouds shrouded the mountains and each turn offered a new surprise. We turned onto a side road, which followed switchbacks up a mountainside. On one side was a thick wall of overgrowth we could practically reach out and touch, and on the other a sheer drop-off. Our driver appeared calm, but I was next to him and he was sweating. We had to stop the bus a few times and get everyone off in order to negotiate hairpin turns. This was to lighten the weight and maximize clearance, and also to ensure we didn't all tumble down the mountainside. When the road finally became impassable, we'd reached the Maquipucuna Lodge. Tucked in the jungle perched over a roaring river, the huge open structure looked to me like Peter Pan's treehouse from Never Never Land.
The reserve is home to jaguars, spectacled bears, and anteaters, but we didn't see a single one. We did see toucans, hummingbirds and striking moths and butterflies. The students loved the opportunity to swing in a hammock, relax, and swim in the Umachaca River, which roared past the lodge. While we interviewed the guides and captured footage, Maquipucuna felt more like a well-earned holiday.
Our adventures in Quito, the Andes, and the cloud forests were remarkable, but one last stop was waiting for us, the Galapagos Islands. It was the place I was most looking forward to.
The Galapagos Islands
From Quito, we flew 800 miles west over the pacific to San Cristobal Island, where Darwin first made landfall. Inspectors screened passengers for foreign vegetables, seeds, fruits, and animals, which could wreak havoc on the protected environment. There's a history of people intentionally or accidentally bringing in non-native species, resulting in unfortunate outcomes. Goats introduced in the 1850s ate the same cacti that the native tortoises relied on and blackberries brought in as a crop in the 1970s overtook hillsides crowding out the islands' endemic plants.
We checked into our hotel, a stone's throw from the town harbor. Sea lions had taken over the town's beach and like drunks, could be found dozing on sidewalks and benches. After an orientation at the Galapagos Science Center we hiked up to Frigate Bird Hill, which overlooked Darwin Cove. After climbing mountains in the thin air of the Andes, ascending these hills was remarkably easy. Leaning over the rail, we looked out over Darwin Cove, a hundred or so feet below us and watched frigate birds circle effortlessly in the updrafts.
The next day we packed snorkel gear and headed to Loberia, a cove on the southwest side of the island. This was the first time we got to experience the shoreline and dip our toes into the ocean. The half-mile trail skirted the seaside, meandering between jagged black volcanic rock and stretches of course sand and pebbles. A parade of three-foot waves rolled in from the Pacific. We passed iguanas, who ignored us while crabs and salamanders scampered out of our way.

We had the cove to ourselves, excluding the sea lions basking on the sand and playing in the water. We snorkeled, took photos, and practiced shooting underwater footage with our GoPros. We'd been instructed to stay six feet away from all wildlife, which had no fear of humans (social distancing). However, the sea lions hadn't gotten the memo. They would come up and flop down beside us in the sand. (A few might've preferred our beach towels to the sand.) They took delight in swimming past us in the water and struck me as joyful aquatic dogs.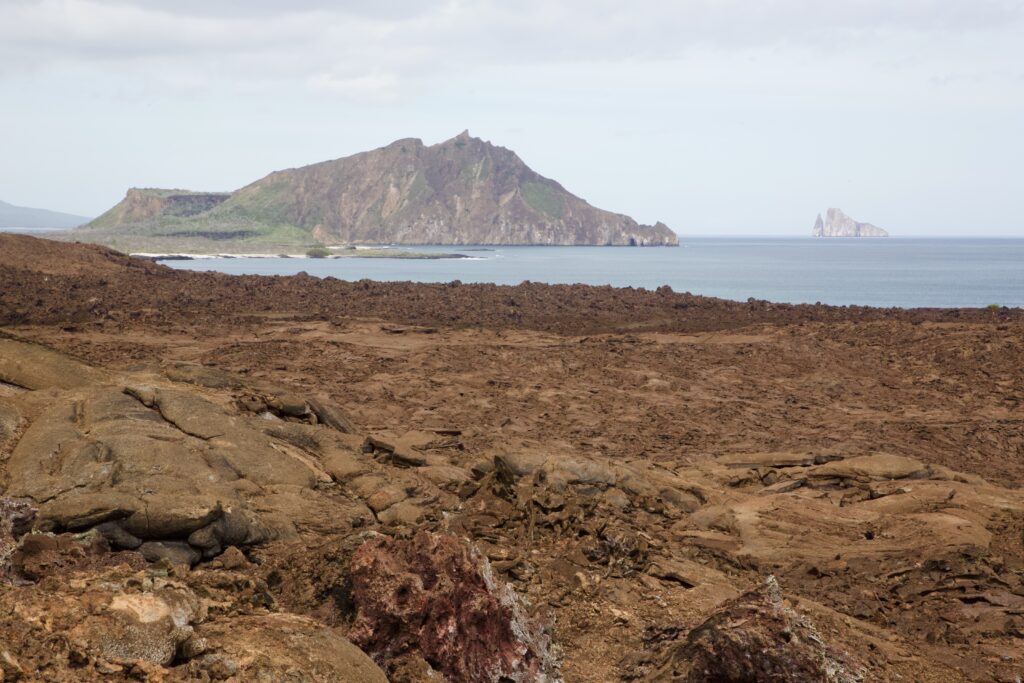 Ecotourism
I'd read of the harmful impacts of rising ecotourism and the challenges facing the Galapagos National Park, tasked with managing, conserving and maintaining the islands' biodiversity. While I was constantly surveying the coast for signs of trash and waste from cruise ships, I was pleased we couldn't get the shot I'd envisioned, which was of a plastic bottle in the sand and an iguana in the background. While I can't speak for the other islands, the coastline around San Cristobal was pristine.
The next day we took a boat our to Isla Lobos to snorkel along the coast and hike over a landscape of volcanic debris. We walked over thin shards, which were once molten lava. Along the shoreline we watched blue-footed boobies engrossed in their mating rituals. The males would do a dance with their feet that was both graceful and silly. An endless parade of frigate birds circled overhead while a few roosting in shrubs puffed out red pouches. I wasn't enamored by the frigate birds. They appealed to me as much as vultures, but they sure can fly. We motored out to Kicker Rock for our last snorkel. Its huge vertical walls jut out of the ocean like remnants of a grand monument, which is in essence what it is, the remains of a four-million-year-old volcanic cone. We battled six-foot swells but were treated to colorful fish, rays, sea turtles, and hammerhead sharks.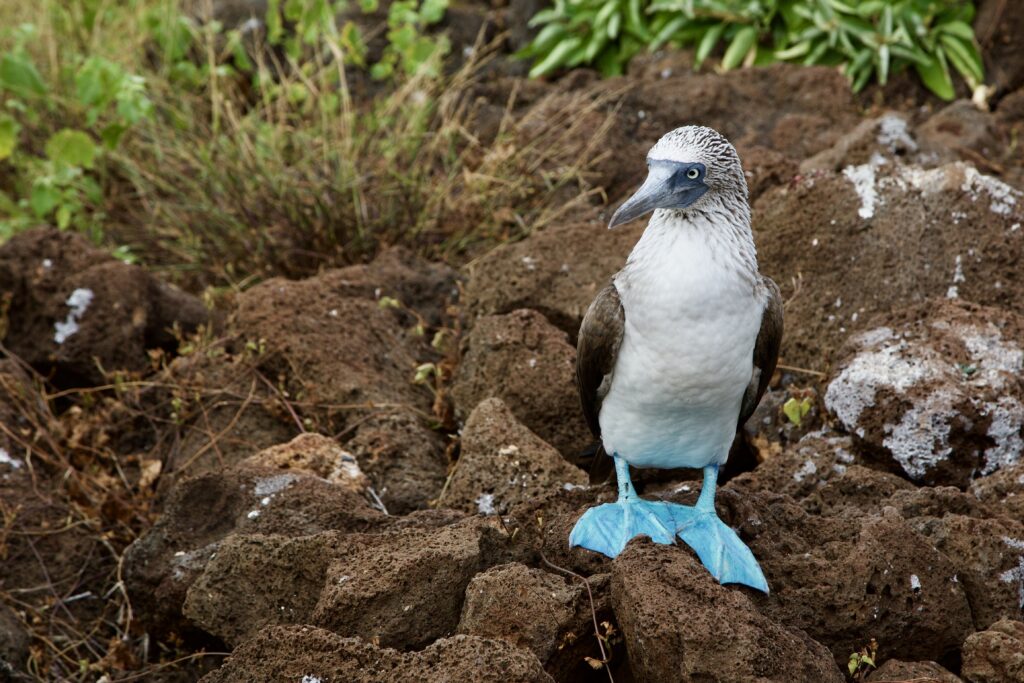 Illegal fishing and poaching have drastically reduced the number of sharks and sea cucumbers. Our captain and guide used to be a fisherman and admitted that many in the trade used to fish illegally. But now he was gainfully employed as a tour guide with no need to fish anymore. A similar story was told by a few of our other guides. The growth of ecotourism has ultimately benefited the Galapagos Islands. Entrance fees go towards maintaining the park, caring for its inhabitants, and employing its guides, who are all natives, born and raised on the islands. Without tourism, there would be no source of funding for the park or protection of its wildlife.
Our last stop in the Galapagos Islands was a small sandy cove with gentle one-foot waves rolling in over the beach. There were no more interviews to be captured and no more photos to be taken. We waded into the water and swam amidst the turtles and sea lions. I watched my students laugh and play in the waves, and several times noticed one or two stop what they were doing, and simply gaze out to sea. Taking in the view, wind, and the sound of the waves and exuberant barks of the sea lions, I contemplated the significance this place and the good fortune we all had to experience it.
# # # #